Cerla was born, raised and made with love in the City of Angels. Founded in 2014 by Seed Beauty® we pride ourselves on being wallet friendly and bunny approved. We test our products in the nicest way possible, leaving fur babies to be fur babies and experimenting on people instead.
estoy feliz con los resultados obtenidos con estos productos!!!!
Manuel Bustamante
Mis cejas crecieron muy rápido.
Samantha Olarte
Estoy haciendo el tratamiento y me ha ido muy bien! Gracias!!!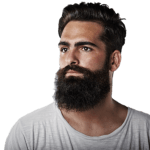 Carlos Luzardo
Que felicidad utilizar el inhibidor de vello, realmente SI funciona.
Carolina Cárdenas
SHARE YOUR LUMINOUS MOMENTS WITH cerla !